WEATHER ENCLOSURE SCAFFOLD RENTALS
Snow, rain or blustering wind, weather conditions do not always cooperate; no matter what time of the year the project must be completed, Universal Scaffold Systems can provide weather enclosure equipment for your job site. We offer many options of weather protection. We can keep your workers and work area dry and safe from the elements, no matter what Mother Nature sends your way.
Photo Gallery - Weather Enclosure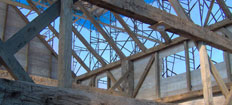 Weather Enclosure Projects Gallery
17 Photos
View Gallery

Contact Universal Scaffold systems
Contact Universal Scaffold Systems for your scaffold rental or scaffold purchase by calling 724-452-3100 or by filling out the form below.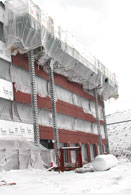 Weather Enclosure Scaffolding Rentals
Universal offers choices of weather enclosure frames to be used with the frame scaffold. Used in conjunction with reinforced poly and wind clips, it can be an effective inclement weather deterrent. Weather protection systems are designed to keep your workers and work area dry and warm. Weather Enclosure systems keep you on track. Don't let the elements be a factor in getting your job done.
WEATHER ENCLOSURE SCAFFOLD RENTALS
Weather Enclosure Frames
Wind Clips
Reinforced Poly in
Several Sizes
Debris Netting
Fire Retardant Poly
Customizable to your
job requirements
VIEW OUR OTHER RENTAL SCAFFOLD PRODUCT LINES