DEBRIS CHUTE RENTALS
When you have trash and debris to remove from buildings or roofs, let Universal Scaffold Systems provide a debris chute system to make your task easier. We offer a safe, cost effective means to transport your debris to a dumpster or container plus avoid extra labor and messy cleanup.
Photo Gallery - Debris Chutes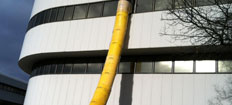 Debris Chute Projects Gallery
14 Photos
View Gallery

Contact Universal Scaffold systems
Contact Universal Scaffold Systems for your scaffold rental or scaffold purchase by calling 724-452-3100 or by filling out the form below.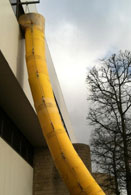 Debris Chute Scaffold Rentals
Universal has a complete line of trash chutes and accessories. Top hoppers can be positioned near the roof while doors are strategically placed to access different floors. Bolt down frames give you many options for how the cute can be anchored. The FishPole System makes it easy to install and dismantle even the highest and most difficult setups. We understand the importance of keeping a job site clean. Allow us to install a system that is appropriate for your job requirements while satisfying the needs of the end user. The proper and safe placement of the chute as well as efficient access is vital on the job. Whether new or existing construction, Universal has the people, products, and experience to plan, design and install a safe method of debris disposal from any height on any building.
Complete Line of Trash Chutes, Bolt-Down Frames, Roof-Top Setups
Available in Welded Design or Wrap Around for Easy Storage
Debris Netting in Multiple Sizes and Colors Available
Reinforced Poly to Wrap the Chute when removing asbestos or other hazardous materials
Heavy Gauge Molded Plastic Design Provides for Long Life and Fewer Clogs.
VIEW OUR OTHER RENTAL SCAFFOLD PRODUCT LINES