RESIDENTIAL CONSTRUCTION SCAFFOLD RENTALS
Allow Universal Scaffold Systems make your residential projects safer and easier. No matter what size your job, large or small; we can provide you with the right access solution for your tough scaffolding requirements. Why struggle with other methods of access when building or renovating, rely on our large inventoryof scaffold products and personalized complimentary services to complete your job effectively.
RESIDENTIAL CONSTRUCTION RENTALS MEDIA CENTER
Photo Gallery - Residential Construction Rentals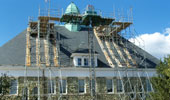 Residential Construction Rentals Gallery 1
19 Photos
View Gallery

Universal Scaffold Systems
testimonial
"The Transport Platform has saved us and our subs a ton of man hours and money. It has allowed for the safe expedited process of loading the entire building and removing debris as we needed without having a designated operator at the controls full time."

John Gregory
Perry Construction
Project Superintendent
Erie, Pennsylvania


Residential Construction Scaffold Rental Services
Residential construction practices must conform to local, as well as federal regulations and codes. Building materials vary greatly in the residential construction industry. Universal Scaffold Systems will help you determine the safest and most cost effective way to complete your residential projects. Let Universal guard the well-being of your workers so you can concentrate on the other aspects of your new construction or renovation.

+
ROOFING

+
RESTORATION

+
CUSTOM ACCESS
RESIDENTIAL CONSTRUCTION SCAFFOLDING RENTALS
Frame Scaffold
Modular System Scaffold
Shoring
Steel and Laminated Plank
Debris Chutes
Erection and Dismantling
AutoCAD Layouts
Rolling Towers
Hydro-Mobile

+
HOME
CONSTRUCTION

+
SIDING
AND PAINTING

+
MASONRY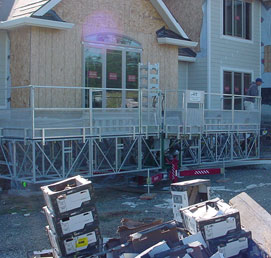 Click here and see how we can help with your residential construction rental needs.
Submit your information and a Universal Scaffold Systems Representative will contact you shortly.