SYSTEM SCAFFOLD RENTALS
When other products and solutions will not handle your scope of work, and time is of the essence; Universal Systems Scaffold will provide you with a systems scaffold solution which enables the highest adaptability, flexibility and economical cost you need to access the most difficult job and environment.
Photo Gallery - System Scaffold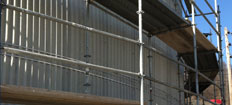 System Scaffold Projects Gallery
35 Photos
View Gallery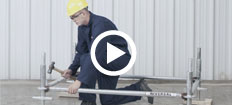 Universal Scaffold Rentals Video
View Video

Contact Universal Scaffold systems
Contact Universal Scaffold Systems for your scaffold rental or scaffold purchase by calling 724-452-3100 or by filling out the form below.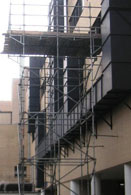 System Scaffolding Rentals
Our System Scaffold provides total flexibility to conform to any angled requirement. Combined with tube and clamp, this product delivers results every time. System scaffold allows access solutions in the most difficult settings and harshest industrial environments. Our experienced sales staff, engineers and professional erectors will help you procure a solution to your scaffolding requirements; whether steeples, stairwells, stair towers or boilers to name a few, we can help you get the project done.
Get a Quick Quote Now!
Universal System Scaffold Rosette

Universal's System Scaffold Rosette provides total flexibility to lock in any angle plus quickly and accurately aligns at 90 degree angles using the keyhole positions. Each rosette can accommodate up to eight connections at one time. Our system scaffolding can increase your efficiency by decreasing scaffold construction time by two-thirds.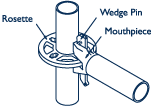 The high-strength Mouthpiece uses a Wedge Pin with a reverse slope. The Wedge Pin engages the Rosette entirely through its vertical surface, ensuring a properly seated Mouthpiece on the Rosette while the Wedge Pin is in place. The lobes are reversed to dramatically increase the compression area at the bottom of the Mouthpiece.

SYSTEM SCAFFOLD ADVANTAGES
Hot-dipped galvanized
Pre-measured components/no measurement needed
Erected quickly and easily
Conforms to any angle or curve
Rigid and safe
Can be used in conjunction with tube and clamp scaffolding
Maintenance free
Rental Ready Inventory
VIEW OUR OTHER RENTAL SCAFFOLD PRODUCT LINES