ON-SITE SCAFFOLD
RENTAL SUPPORT
On-site evaluations to determine the scaffold products and techniques required for a successful scaffold build to get your project done economically, efficiently and safely.
Professional Job Site Assessments
When your project requires scaffold access that is too complicated to describe over the phone, let one of Universal Scaffold System's professional representatives meet you at your job site. We can help you plan your job efficiently and safely from start to finish. To provide you with the best plan for a safe, cost effective project; we will take photos and dimensions of your environment. Meeting with our erector supervisors will enable a complete understanding of the scope of your job. Let our experience in the scaffold industry work for you.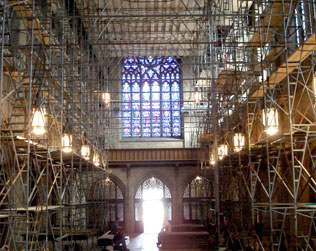 EXPERIENCED AND KNOWLEDGEABLE SCAFFOLD PROFESSIONALS
Ohiopyle Visitors Center

A Universal Scaffold Systems representative visited the jobsite in order to evaluate the access challenges at the Ohiopyle restoration project location. The erection supervisor took measurements and photos of the site; after reviewing the unique topography, consulted with our engineering department to determine best line of attack to resolve scaffold access difficulties. It was determined a combination of frame scaffolding, systems scaffolding and tube and clamp would be needed to reach all regions to be repaired. We partnered with the subcontractor doing the restoration to ensure his access to all work locations was satisfied. Another job completed safely and OSHA compliant.
First Presbyterian Church of Erie PA.
Not only did Universal Scaffold Systems perform all labor to install and dismantle the project, but coordinated access needs for all of the subcontractors. As the project proceeded, additional areas of the church were found to require attention. We identified many of

these areas and were able to modify and or change our scaffold plan while at the same time staying within our customer's budget. This type of support and service was well received and prevented delays in the schedule. In addition, we were able to provide scaffold training to those on site who were unfamiliar with the complexity of large area scaffolds.