SHORING SCAFFOLD RENTALS
Construction processes frequently require support of a structure to prevent collapse when proceeding with work tasks. Let Universal Scaffold Systems help determine your shoring needs; whether removing walls, columns, support beams or floors, we can insure that safety and cost will be top priorities at your jobsite.
Photo Gallery - Shoring Scaffold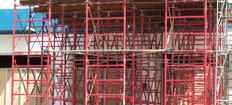 Shoring Scaffold Projects Gallery
22 Photos
View Gallery

Contact Universal Scaffold systems
Contact Universal Scaffold Systems for your scaffold rental or scaffold purchase by calling 724-452-3100 or by filling out the form below.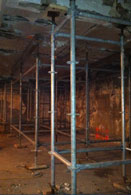 When Construction Process Requires Support
When extreme weight capacity is desired, call Universal to help with your shoring requirements. Our engineering department will help you determine what specifications are needed to insure your shoring is safe and cost effective. Our rental inventory is produced from certified raw materials, quality controlled to meet or exceed the required Industry standards. Our scaffold erectors are experienced and knowledgeable in all aspects of your build and dismantle.
Get a Quick Quote Now!
Complete line of accessories
Shoring Frames of various sizes and widths
Panel specifications and load data provided on all products
20,000 pound capacity
Knee Braces for Temporary Supports
P.E. Stamped Drawings Available
Steel and Aluminum Beams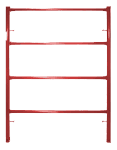 VIEW OUR OTHER RENTAL SCAFFOLD PRODUCT LINES