SIDEWALK PROTECTION SCAFFOLD RENTALS
During construction or refurbishing jobs, your business must stay open and offer safe customer entry to your establishment; let Universal Scaffold Systems provide sidewalk pedestrian protection and access.
Photo Gallery - Sidewalk Protection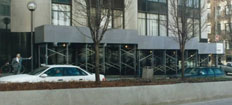 Sidewalk Protection Projects Gallery
14 Photos
View Gallery

Contact Universal Scaffold systems
Contact Universal Scaffold Systems for your scaffold rental or scaffold purchase by calling 724-452-3100 or by filling out the form below.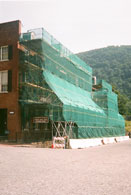 Sidewalk Protection Scaffold Rentals
Universal Scaffold Systems can make access safe when construction is in process. Our flexible systems will allow unobstructed access to businesses while work continues above.
SIDEWALK PROTECTION SCAFFOLD ADVANTAGES
Parapet walls available to keep debris from above falling on pedestrians or automobiles
Plank and Plywood, and a layer of Reinforced Poly will make a safe and dry environment for people under the protection
Lighting available when required
Meets or Exceeds most city codes and regulations
Debris Netting and Reinforced Poly will protect your jobsite and improve appearances.
VIEW OUR OTHER RENTAL SCAFFOLD PRODUCT LINES