COMMERCIAL CONSTRUCTION SCAFFOLD RENTALS
Universal Scaffold Systems rents a variety of scaffold products to commercial construction contractors from masonry and surface renovations to painting contractors and interior demolition. 
COMMERCIAL CONSTRUCTION RENTALS MEDIA CENTER
Photo Gallery - Commercial Construction Rentals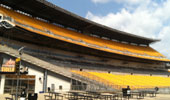 Commercial Construction Rentals Gallery 1
25 Photos
View Gallery

Universal Scaffold Systems
testimonial
"Massaro Corporation made the decision to use the Hydro-Mobile Transport Platform for its cost effectiveness and handling capacity in comparison to a standard construction elevator. The cost benefit saved us nearly 50% in rental fees and we were also able to operate the unit with our own manpower once trained by Universal Scaffold. The unit served our 10 story, 180 room hotel without issue for the 10 month duration. We will consider using this unit again with future projects."

Brian Miller
Massaro Corporation
Project Manager
Pittsburgh, Pennsylvania


Commercial Construction Scaffolding Rental Services

+
MAST CLIMBER
AND STAIR TOWER
Universal Scaffold Systems is a tremendous asset to construction companies performing new work, additions, alterations, maintenance, repairs on office space, retail, hotels and entertainment buildings. Universal can show general contractors or project managers how to access the work to be done in a safe and cost-effective manner.

+
FRAME SCAFFOLD
AND PLANK
Universal Scaffold Systems can show your company how to maximize profit by
providing the best access solution.
COMMERCIAL CONSTRUCTION SCAFFOLD RENTALS
Frame Scaffold
Modular System Scaffold
Endlok Tube & Clamp
Shoring
Hydro-Mobile Scaffolding
Steel and Laminated Plank
Sidewalk Protection
Weather Enclosure/Poly
Material Hoists
Mobile Maintenance Platforms
Manual Crank Up Scaffold
Debris Chutes
AutoCAD Layouts
Erection and Dismantling
Scaffold Safety Training
Engineering Department

+
FRAME SCAFFOLD
RENTAL

+
SIDEWALK
PROTECTION RENTAL

+
ROLLING TOWER
RENTAL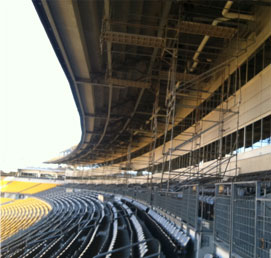 Click here and see how we can help with your commercial construction rental needs.
Submit your information and a Universal Scaffold Systems Representative will contact you shortly.