INDUSTRIAL CONSTRUCTION SCAFFOLD RENTALS
Universal Scaffold Systems provides quality products, engineering design, and erection and dismantling services for your Industrial maintenance or construction project. From scheduled and unscheduled maintenance, to everyday requirements and new construction; access to your project is important. Universal has the products and knowledge to meet your special access needs for industrial conditions and safety compliance.
INDUSTRIAL CONSTRUCTION RENTALS MEDIA CENTER
Photo Gallery - Industrial Construction Rentals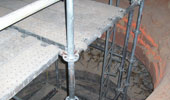 Industrial Construction Rentals Gallery 1
22 Photos
View Gallery

Universal Scaffold Systems
testimonial
"With safety as the number one core value of CBS we found the Transport Platform provided by Universal Scaffold to be the best solution for our men and materials access needs. In addition, the flexibility of the platform design allowed us several options to meet our project and site requirements. The ability to provide our own operator to run the plaftform as needed while being able to perform other tasks, has played a role in allowing this type of equipment to work with tight budget constraints. Lastly, the reliable performance of the equipment coupled with the dependable local service and support has allowed for daily uninterrupted use and productivity of the Transport Platform."

Rick Lukes
Continental Building Systems
Project Superintendent
Homestead, Pennsylvania


Industrial Construction Scaffold Rental Services

+
INDUSTRIAL
MAINTENANCE
Our products allow for maximum efficiency, protection and durability in the harshest industrial environments. Universal's engineering department has extensive experience utilizing AutoCAD designs and layouts to fulfill specifications of all industrial requirements and demands. Along with our sales professionals and skilled installation staff, we can provide an efficient design plan for meeting your access requirements.

+
STAIR TOWER
ACCESS
Safety is always our highest priority with Industrial projects. At Universal Scaffold Systems, it is important to us that our workers are not only accident free, but also provide the safest environment for those working on our equipment. Let Universal Scaffold Systems help make your next project not only safe but efficient and profitable. Contact our sales department for a FREE consultation regarding your project.
INDUSTRIAL CONSTRUCTION RENTALS
On-Site Customer Support
Scaffold Safety Training
Safety Compliance Training
Engineering Services
Large Scaffold Inventory
Trained and Experienced Erectors

+
HYDRO F SERIES
SILO ACCESS

+
TUBE AND CLAMP
PLUS SYSTEMS
BOILER REPAIR

+
SYSTEM SCAFFOLD
FOR TOTAL
FLEXIBILITY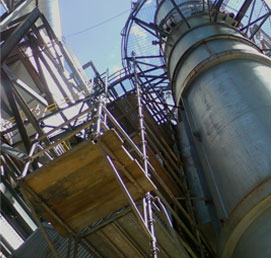 Click here and see how we can help with your industrial construction rental needs.
Submit your information and a Universal Scaffold Systems Representative will contact you shortly.